This tutorial will show you how to turn THIS image into the following:





----------------------------------------------

1. Pick the image you want to use and open it in Photoshop...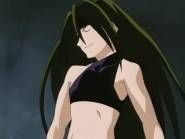 2. Select the "rectangular marquee tool" and then hold down the shift+key on your keyboard while you drag a marquee box around the part of the image you want to use. EXAMPLE HERE

3. Go to "Image" and select "Crop." Now it should look something like this.





I personally like this image just the way it. So I'm not going to do any modifications other than changing the size to 100x100. Also, don't forget to make sure your resolution is at 72 or your icon will come out looking funny. =P

4. Do you have text in mind for your icon? I hope so =P I've picked the following words: malice, rival, spite, envy

5. Now make a new layer

6. Take the eyedrop tool and pick a light color from the image that you think would look good as a text color. I picked the purple in Envy's shirt. (The code for this color is #503e56) Now write the text where you want it on the image. Just the first part. I'm starting with Malice.

7. So you can see the text better, I'm going to show you how to stroke. Eyedrop the color you want to border the lines of the text to make it easier to view and nice to the eyes. I'm useing Envy's skin, code #ecd9cb. Copy the code cause you'll need it when you stroke the text. Go to Layer, Layer Style, Stroke. Change the color code, set it at one pixel. It should now look like this...




8. Go to Layer, Flatten Image

9. Now copy and paste this image into a new window. Then go back to the original and undo the flatten image. Then select the text layer and delete the word Malice and write Rival.

10. Repeat step 8. Repeat Step 9 except this time change the word to Spite.

11. Repeat Step 8. Repeat Step 9 except this time change the word to Envy.

12. Now, flatten this image and since it says Envy (the name of the character) I felt it needed something special. I couldn't resist adding a heart the same color as the light part of his hair, stroked with his skin color, set at vivid light. I also added an inner and outer glow to the heart to make it look on fire. You'll get something like THIS...

13. Save each image by going to File, Save For Web, make sure it is being saved as a GIF, click save, and name it.

14. Now close photoshop and open image ready where you should open all four images you just saved.

15. Be sure the animation window is open by going to Window and making sure that Animation has a check beside it.

16. Display the images before you in the order you want them to appear. Now go to your second image and copy and paste it to the first image. Copy and paste the other two to the first image as well. Now you can close out all the images except for the first one. You should now have four layers.

17. Go to your animation bar and click the new layer button three times and then select the first image on the bar to highlight it.

18. Go to the layers and remove all the "eyes" except for on Layer One.

19. Select the second image on the animation bar and then put the eye back on Layer Two.

20. Select the third image on the animation bar and then put the eye back on Layer Three.

21. Select the fourth image on the animation bar and then put the eye back on Layer Four.

22. Select the first image on the animation bar. Change the drop down menu below it to say "Forever". Set the first three images to 0.5 seconds and the last image to 1 second. Click play to watch the image animate. You can tweek it if you'd like until you're satisfied.

23. Go to File, Save Optimized As, name it and here's your animated icon. ^_^





I Hope That This Helps! ^_^ If you have questions feel free to ask =D And I'd love to see what you've made useing my tutorial. *wink*

~~Destinie